Shocking, I know that I made the statement that private label may not be the best option, but hear me out. There are times when private label is a great choice, and then there are times when your business or marketplace requires a different or custom product.
3 Reasons Why Private Label May Not Be the Best Option For You
1. You're a leader in the market place.
Once you hit a certain level of success people (competitors) begin to notice. If you are using a private label product, they have just as much access to the product as you do. How do you fix it so that you can stay the leader? Customize your product. Find some ways to differentiate the current product and bring out a new and improved version.
2. Private label may not be a good option when the product that you want is not available to private label. 
Occasionally, there is a unique opportunity in the marketplace that requires a custom product. Think the new trend in hair mask, diaper rash products or sunscreens those type of products often times require you as a brand owner to customize the products.  However, here is one word of caution.  Be sure that you have the ability to market your customize or unique product. Lots of people have unique ideas but lack the ability to market them. If you have the skills to market and you want to create a new product go for it!
3. You already have an existing line with a signature custom product that's doing well.
In this case, it's best to keep your signature custom products and outsource those to a manufacturer if you are in a place of growth. You can supplement the line with private label products.
Need some extra support through this? Join our support group for the month of a July. It's a great way t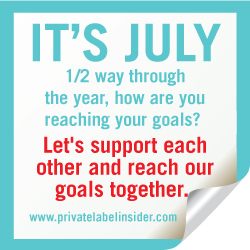 o keep on task and reach your goals!