I had this great conversation with a new client and she shared her hesitation about how to make a private label her own.
She said that the idea of the product not actually being an original and exclusive formula to her brand haunted her.
She was relieved at what I told her next…. you are not the only brand owner who feels that way!
I hear this all day long. Many brand owners initially have hesitation around using private label products.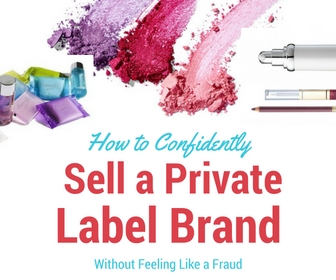 I want to share a few things that I shared with her and then encourage you to watch this webinar that I did on How to Sell a Private Label Brand Without Feeling Like a Fraud.
You are not a fraud.
Your job as the brand owner is to bring products that resonate with your market.Whether that is through private label or custom the most important part is that the products you bring meet or exceed your brand standards.
Private label doesn't mean inferior products.
Private label usually means a well tested and well documented product that has both stability testing and consumer testing behind it.
You invested the time to research the products.
And with that time you were able to see if they were a fit or not. This takes time including researching, testing your products and finally deciding on what will work for your business and customers.
If you still have hesitation on using private label products or how to make a private label product your own, go listen to this free webinar on How to Sell a Private Label Brand Without Feeling Like a Fraud. I did this free training with some amazing tips on how to make a product your own, please see if it helps you!
In this webinar you will learn:
How everyone is doing it and you should too!
Why private label should be at least a part of the mix of your product line.
How to be unique with private label products.
How to stand out in a crowd of "me too" products.