YouTube isn't just for watching cat videos, or discovering new music stars; it is also a growing online venue for entrepreneurs and beauty gurus. From Michelle Phan to Makeup Geek, beauty vloggers are drawing in millions of fans. These fans tune in daily and weekly, anxiouslyawaiting each new video to see hauls, tutorials, trend reports, or for a peak inside the world of their favorite beauty maven.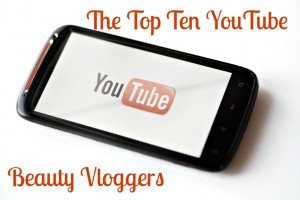 Fans aren't the only people taking notice. Beauty companies, magazines, TV shows, and more are helping to turn beauty vloggers into household names, with some starting their own makeup or clothing lines. Companies send vloggers products to showcase on their channels, invite them to be part of collaborations, and provide them with discounts they can offer to their subscribers.
Google "YouTube Beauty & Fashion Vloggers," and you'll discover over 200 channels to choose from, with more popping up everyday. Want to know who's at the top of their YouTube Beauty game? Check out our list of the top ten YouTube beauty vloggers below.
Michelle Phan  – With over 7 million subscribers, and over a billion views, Michelle Phan is one of the biggest names on YouTube. Phan, whose channel serves to teach and inspire everyone to become their own best makeup artist, is one of the very first beauty vloggers. She has been posting her unique makeup tutorials since 2007. She launched her own makeup line, EM cosmetics, in 2013, with $84 million dollars in sales. Recently, Phan published her first book, Make Up: Your Guide to Beauty, Style, and Success-Online and Off, in 2014.
Zoella (Zoe Sugg) – With almost 7 million subscribers, and millions of views, 24-yr old British YouTube queen, Zoe Sugg, is known for her humorous, and engaging makeup tutorials. Zoella isn't just a wildly popular vlogger for teenagers and women in their early twenties, she's also a social media sensation, with over 2.5 million Twitter followers, and 3.5 million Instagram followers. In late 2014, Zoella (Zoe Sugg) broke records with the launch of her Zoella Beauty line, as well as with the release of her first novel, Girl Online, which broke the record for highest first-week sales by a debut novelist.
Ingrid Nilsen – Previously known as MissGlamorazzi, Ingrid Nilsen's YouTube channel boasts over 3 million subscribers, and over two million views. When Nilsen started her channel over five years ago to help her overcome her shyness, she had no idea it would change her life. Today, this professional internet human, power napper, and donut eater has turned YouTube into a fulltime job, and garnered new opportunities as a Glambassador for COVERGIRL Cosmetics, and a judge on Lifetime's Project Runway Threads.
StilaBabe09 – Beauty Vlogger StilaBabe09 (Meredith Foster) desire to help girls find the beauty that comes from within has garnered her 3 million subscribers and over two million views. With her fast-talking, big personality, teen sensation StilaBabe09 delivers upbeat tutorials and beauty product recommendations that reflect her low maintenance style and sweet personality.  Foster has been featured in Seventeen Magazine and Teen Vogue.
Tanya Burr – Professional makeup artist, Tanya Burr, 25, has been making videos on YouTube since 2009. With over 2.5 million subscribers and almost two million views, Burr's channel is a mixture of fashion, makeup, baking and other random videos, all served up with her adorable and likeable British charm. In 2014, she launched the Tanya Burr Cosmetics line, which currently features lipglosses, nail polishes, and lashes. She has been a judge for ELLE & Grazia Beauty Awards, and has press credits for over 14 magazines and newspapers. Burr is engaged to fellow YouTuber Jim Chapman, who also boasts a fan base of almost 2 millions subscribers.
Bubzbeauty – With almost 3 million subscribers, and over 3 million views, Bubzbeauty (Lindy Sang), helps women realize their own beauty with her cute Irish accent and beauty tutorials. Sang has been a YouTube staple since 2007, but didn't post her first beauty video till 2008. In addition to being a beauty vlogger, Sang, 27, is also a wife and a new mom. Like other YouTubers, she documented her pregnancy journey on both her channel and blog.
Kandee Johnson  – Between being a Lead Beauty Curator for Conde Nast Entertainment, running a successful YouTube channel and blog, and raising four children, Kandee Johnson is one busy woman. With over 2.5 million subscribers and almost three million views, Johnson's channel showcases her love of beauty, makeup, how tos, style, and much more, all with her unique style. Based in Los Angeles, this former professional makeup artist is best known for her amazing recreations of celebrity and fictional character looks, including Frozen's Elsa, Angelina Jolie, Edward Scissorhands, and Lucille Ball.
Gossmakeupartist – Wayne Goss of Gossmakeupartist proves not all beauty vloggers have to be women. With almost 2 million subscribers, and over 2 million views, Goss, 36, is not only a popular vlogger, he is also an accomplished makeup artist. Through his channel he helps break down makeup with his easy to do makeup tutorials, using himself as the guinea pig, and honest reviews of products.  Not only do women swoon over the YouTube star, but they also clamor for his brush collection, which sold out on Beautylish in five minutes.
Pixiwoo – Sister duo Samantha and Nic Chapman are the makeup artists behind the beauty vlog PixiWoo. With over 1.5 million subscribers, and over 2 million views, the Chapman sisters are known for their Basic videos, designed to help beginners learn the best techniques for applying makeup. When the Chapmans aren't creating videos and content for their online magazine TWO, they are running their successful affordable makeup brush and tools line, Real Techniques, which is a favorite among other YouTubers.
Makeup Geek – With over 1 million subscribers and 1.5 million views, Makeup Geek is not just a beauty channel. It is also a place where Marlena Stell, the face behind Makeup Geek, helps to empower women by educating them on how they can enhance their natural beauty, and step out of their comfort zone by trying new looks and products. In addition to running her successful channel, Stell has also created the very successful Makeup Geek line of blushes, eyeshadows, and brushes, which get rave reviews from fellow Youtubers. In 2014, Makeup Geek made the INC 5000 list of fastest growing private companies in the U.S. Next year, Stell will open up the first-ever Makeup Geek store location.
Related Posts You Might Like...