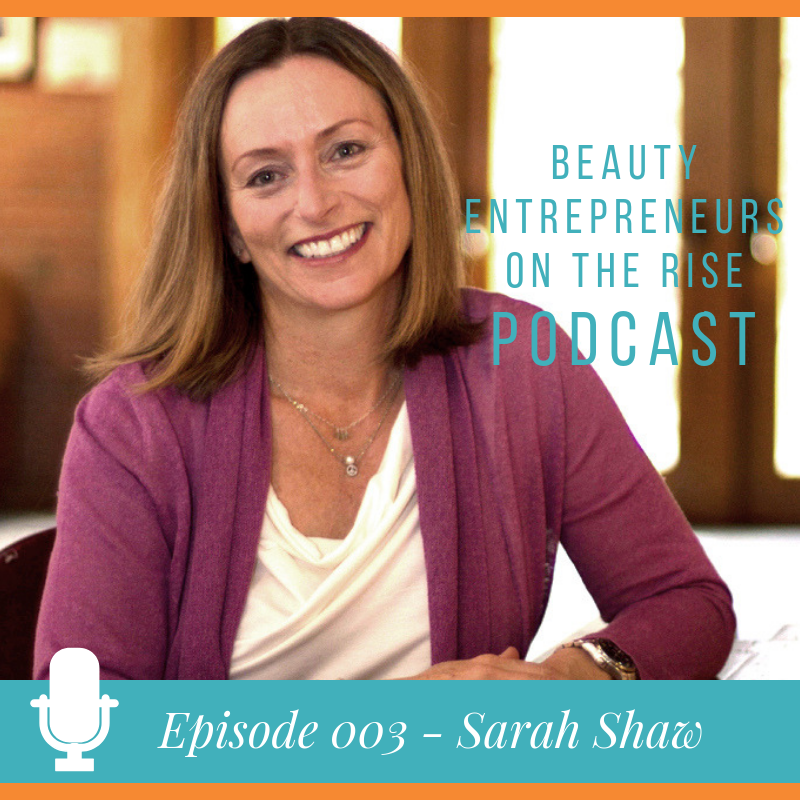 Show Notes:
Why would you want to get your product to a celebrity?
What can getting your product to a celeb do for your company?
Why would the celeb accept a gift from someone smallIs this hard to do?
How can I use this to get more sales?
What if I don't have a photo of the celeb?
What if I have a skincare or make up line?
Can I still get that to a celeb?
From Backstage to Front Page

"You can't connect the dots looking forward; you can only connect them looking backwards." Steve Jobs spoke these words to thousands of college grads in his commencement speech at Stanford. He was discussing his winding path to success, imploring the students to trust that everything they had done in their lives would eventually mean something – it would eventually lead them where they were meant to be, and every strange turn would make sense. When Sarah Shaw looks back at her path to success, she can see how the dots connect, but she never could have predicted her path from the beginning.

Shaw got her start as a costume designer for film sets. One day, she got a hankering to create a handbag. During her very rare bits of free time in her 70-hour workweek, she worked on her designs in her living room, and very quickly people started to notice. She consistently sold out her supply and decided to quit her job in film. After five years of tremendous success (and some very bad luck losing investors after 9/11) she closed the company. Never one to be complacent, Shaw came out with a new design for a handbag closet organizer and hit half a million in sales after just 2 years. Eventually, friends and strangers started asking Sarah, "How did you do all this?" She realized she had solid answers and a lot to offer aspiring entrepreneurs, so she quit her second business and launched her third – Sarah Shaw Consulting. She's been consulting with new businesses owners to help them with everything from email marketing and social media to working with celebrities since 2009.

Targeting Celebrities

While Shaw was still working in her handbag business, she wanted to get her bags in the hands of celebrities but didn't know how. Then, while out to lunch, a friend complained about being forced to use Donna Karen clothing on the movie set since the designer had gifted them with free attire. Immediately, Shaw realized she needed to start gifting bags to celebrities. She started giving them away as often as possible. As more and more celebrities carried her bags, more and more retailers wanted to carry them. Before long, her bags were on the shelves in Neiman Marcus, Bergdorf Goodman, and Saks Fifth Avenue. They were also featured in People, Lucky, Marie Claire, Extra!, and Access Hollywood.

Even though the company eventually shut down, Sarah took the lesson with her. When she launched her next product, she wasted no time in sending her handbag closet organizers to celebrities and influencers. When stores realized they could feature pictures of celebrities using the products at point-of-purchase, they were excited to buy her inventory. This strategy has served Shaw well. Today, a big part of her business centers around teaching aspiring business owners in gettng their products into the hands of celebrities.

Why Gift to Celebrities?

If you're not getting paid, and you're not seeing social media endorsements, what's the benefit of sending free merchandise to celebrities? According to Shaw, there are many potential benefits! The biggest is that you can add a photo of the celebrity and the product they're using to your one-sheet so stores can use it at point-of-purchase. Effectively, getting your products into famous hands makes for an easier sell to retail stores.

Another way to capitalize on celebrity use is to pitch your product to celebrity magazines. You can ask to have the product featured in a spread or article, or just ask to have the photo included in a celebrity montage mentioning the product. One time, Shaw was selling necklaces for another entrepreneur and sold 2,000 units overnight after Jennifer Aniston was spotted wearing the necklace in an article in People magazine.

The biggest reason to gift to celebrities is that it opens your brand to all kinds of possibilities. Maybe they'll be spotted wearing your lipstick. Maybe they'll mention it in an interview. Maybe they'll fall in love with your hair care line and share it freely on their social media. Maybe they'll send an eyeshadow palette to their make-up artist who will recommend it on their next film set. You just don't know what's possible when you get your product in the right hands.

It's a Gift, Not an Endorsement

Shaw is full of all kinds of valuable tidbits when it comes to pitching your brand to celebrities. First and foremost, make sure you call it a gift. If you ask for an endorsement, the celebrity will likely expect a royalty. If you send a gift and they love it, they can talk about it all they want on talk shows and in the press without you having to pay a penny.

Second, make sure you only use post-production photos that are royalty-free for your advertising. Depending on your comfort level, you may choose to actually purchase photos from celebrity websites for your advertising, but you don't have to. Just be absolutely sure to avoid anything stamped with a brand name or a Getty image (or you will get sued "100 times the cost of the image.").

Finally, when you're promoting beauty brands like makeup, hair care, and skin care products, contact the right people in the right order. Start with the make-up artists. That way, you'll have a point of contact to know if the celebrity even likes your product. If they do, you can send more. If they don't (but the makeup artist does) they could still end up sharing it with other clients. Next, contact a manager. Managers are in charge of making big-picture decisions for their clients and helping direct their careers. Finally, ask the agents. Shaw says agents should be "reserved for emergency, last-minute" scenarios since they're mostly in charge of handling money.

These are just a small handful of the lessons Sarah has to impart to beauty entrepreneurs who want to get their products featured on TV or in celebrity news. Want to learn more about how you can get your beauty product in the hands of your favorite celeb? Visit Sarah's website sarahshawconsulting.com. You can also learn about her video-course Celebrity Confidential here.

Connect with Sarah
Facebook: @sarahshawconsulting
Instagram: @sarahshawconsulting