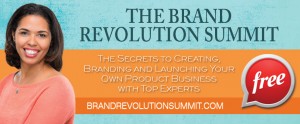 I can hardly contain my excitement. My team and I, along with 21+ experts in business have been working very hard behind the scenes to bring you something revolutionary in the product business.
Have you had dreams, goals, and aspirations of putting your own line together but just not sure where to start?  What if you could have a one-on-one conversation with some of the most amazing experts in the industry?
Business owners that have been on Shark Tank, people that can call ANY buyer at Nordstroms, QVC, Walgreens and actually get in front of them?
Imagine turning your idea into a physical product and seeing it on the shelf of Nordstrom's, Sephora  or specialty stores. Picture logging on to Amazon to view sales information for something that you created – your idea coming to life as a brand and people actually wanting to buy it!
Today, I'd like to give you a unique opportunity to "peer into the minds" of the word's top product development and business experts. The Brand Revolution Summit. 
Watch as I interview 21+ of the leading product creation, business and marketing experts as they teach you everything that you need to know to go from idea to finished product and making it a successful business.
Listen to the experiences, advice, and guidance of world class entrepreneurs who have built successful businesses share practical strategies that you can apply in your business today! 
Join me and over two dozen experts for free by clicking the link below and registering today!