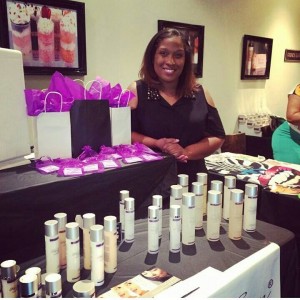 Where did product idea come from?
I am a Licensed Aesthetician. I always have people asking me what they should use on their skin. I wanted to develop a line that worked well for common skin issues.
When did you start the business? Are you doing it full time?
I started the business in January of 2013 and it has been very part-time. I have two children 9 months old and 12 years old. I work as an Aesthetician Instructor and in a local spa and have recently started working in a salon to focus on my product. Needless to say I have a very full plate.
What made you make the leap to start it?
I have two daughters and I would love to leave them a great example of what they can do if they focus and believe in themselves. I have a desire to spend more time with them too. They are my motivation. Coaching from Melody definitely helped me to see that it was possible.
Your packaging is amazing! How long it take for you to create that look and feel?
It took some trial and error. I actually tried to design my labels myself but got an amazing referral from PLI (Private Label Insider). I started with a very simple look with Boston rounds. I really like Boston rounds but ended up picking stock packaging with clear labels and some white labels.
For our readers, could you share how long it took for you to develop the entire line from concept, finished product?
I must say I did a lot of stopping and starting. About a half way into my first attempt I found out I was expecting so I had to wrap my head around that. I keep jotting down ideas and researching and finally stop switching gears. I also struggled with self-filling or choosing a manufacturer that did it all. I needed very low minimums but I am already spread thin so I went with the manufacturer that did bottling and labels for low minimums. January 2013-January 2014 so a year.
What is the biggest lessons that you have learned in launching your product line?
I must say the financial planning was an obstacle for me. Narrowing my product line down was another challenge. I wish I would have spent more time researching my target customer. I also have to say that haste makes waste. I have a box of shiny airless pumps, jars, and shrink wrap I decided not to use.
What advice would you give someone thinking about starting their own line of products?
Don't be too hard on yourself but "Plan your work and work your plan". Have a solid marketing plan. Surround yourself with positive people. Distance yourself from negativity.
What is the most gratifying thing about being a business owner?
The Skyn Fuzion brand has been so therapeutic to create, seeing it develop from an idea in my head to paper to an actual brand has made me feel accomplished.
What is the most challenging thing about being a business owner?
Time Management has been challenging for me. I'm self-financed and have a shoestring budget so sometimes I have to get just what I need
Where do you see the brand in 3-5 years?
I see myself becoming a professional skin care brand.
Is social media a big part of your marketing plan?
Yes, especially Instagram. I have learned a lot from connections I have made, and I try to follow successful brands to see what it takes to be on the top.
Do you intend to sell it in retail distribution or Amazon?
I have a wholesale account with a med spa, and I also sponsor a makeup academy. I am considering Amazon selling.
Where can our readers go more information about you and the your business?
Follow me on instagram: @skynfuzion and like my Facebook page. You can also check out my website at skynfuzion.com. I'm a work in progress so stay tuned.
Anything else you want to share with our readers?
Have faith! If you don't have a big budget that is when your creativity will show up. Melody definitely helped to keep me focused and grounded through his process. The most powerful part of her communications was that she really genuinely believed In me. I've read every free guide and my brand is the product of the DIY course & coaching calls.
Related Posts You Might Like...