Do you need more sales? Who doesn't right?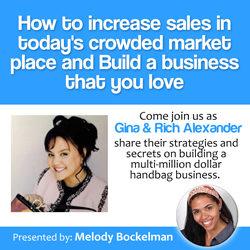 The #1 struggle that I see for most of my clients is that once they have a product created they have absolutely no clue as to where they are going to sell the products.
This is not true for everyone, some of my clients have hopes to get into to target, HSN or some hope to become and internet sensation just by putting up a blog. Unfortunately, most of these hopes fade because it takes a strategy and skills to build a successful business.
My good friends Gina & Richard Alexander are hosting a free webinar to discuss with you how to create a strategy for your products. Gina & Richard have sold millions of dollars worth of handbags and now skincare in both traditional markets and online.
Join them for this free strategy session that is jammed packed with success tips that you won't hear any where else!
==> Go get signed up now! <==
Related Posts You Might Like...