Great Formula, cute packaging but no sales?
What to do, what to do….first thing to ask yourself is what is the story behind the product?
What's a story? A story is the reason why you created your brand.  Did you have acne and created a solution for that? Do you feature that story? Do you play golf so you wanted a sunscreen that wouldn't interfere? Do you have pictures to back it up?
All successful brands tell a story and solve a problem. Even if the problem is wrinkles and crows feet. Stories sell, people relate to other people, people buy from people.
Don't know where to start to write your brand story for your private label skin care, cosmetic, suncare or other line?
Here is some help:
1.  What made you want to start your line?
2. What is the reason for people to believe in your product? Are there great and real images of success stories? Do you have great hair shots you can sell?  One of my favorite nail polish lines, Piggy Paints, does a great job at this. You can read her story here.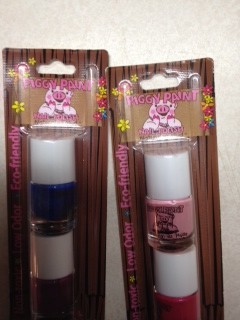 Here's a picture of Piggy Paints at our local Walmart (how cool is that!!).
3. What is the promise in your products? All products have a promise, just some speak it more clearly than others. Keep it simple and you will get lots of customers.
4. Pull it all together. Answering these questions will get the story of your brand out so your customers will love it.
Need more help? Come join our Insider's Membership Group to get the help to write your story, increase your brand and avoid making costly mistakes.