In today's Supplier Spotlight Interview, I had the pleasure to interview the President and formulator Emily Bazemore of Ayari Cosmetics.
Ayari Cosmetics specializes in hair care, everything thing from shampoos, conditioners, styling agents and ethnic hair care products.
Emily has been in the cosmetic industry for a long time and the passion and energy that she brings to the business every day is inspiring.
In this interview:
5:00 min – She shares how she got started in the industry with us her top tips for starting your hair care line
8:00 min – New trends in natural & ethnic hair care, including curling custards, shampoos, conditioners and more
9:00 min – An exciting & unexpected new trend (even I was surprised)
12 min – The cost & process of creating a product
15 min – Her in stock private label offerings
20 min – Her #1 tip that she wishes every new business owner knew!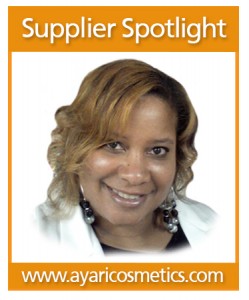 Ayari Cosmetics, LLC
Formulation Development Consultant & Private Label
Contact information:  
Emily Bazemore, President
Podcast: Play in new window | Download