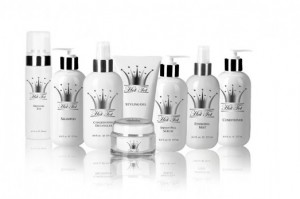 Just finished watching Shark Tank and the the presentation by Megan Gage. What an adorable little boy! And I love the reasons as to why she made the product. As a mom that suffers with a variety of allergies and works in the cosmetic industry I know all too well the benefits of using healthy, non toxic products. I wanted to offer a word of advise to Mark Cuban and Megan as they start this adventure:
1. Take expert advice.
Lori Greiner's advice and repackage the product.  Seriously. There is nothing about this packaging that says the product is non-toxic, allergy friendly, dairy free, gluten free, not even safe or healthy. Most mom's read the front of the label and while the shiny crown is awesome! It doesn't scream healthy or for kids.
2. Be mindful of your claims.
Since it's a hair care product you don't have to do all of the allergy testing, do a RIPT test ( repeat insult patch testing) do some dermatological approved but changing your packaging and adding words that explain the product will do ( with the exception of making tear free claims.)
3. Choose your manufacturing partner carefully.
I would look for a manufacturer that specializes in hair care, period. You will get better prices on your runs and better prices on packaging if you go with someone who specializes in hair care manufacturing.
4. Be open to packaging changes.
The packaging is beautiful and very expensive. The acrylic jars are very expensive, especially with the silver foil. My advice in the redesign phase of this product line to either get rid of the expensive jars or buy them bulk and pre-decorated from the factory.  You may want to consider some custom molds if you are going big time.
5. Make sure your marketing matches your clients.
My only other concern is how many mom's buy hair care products for their kids at salons? Why not try target? Advertising in allergy specific magazines like Living Without or Go Dairy Free?
Congrats Megan! I loved watching your presentation and loved the connection between you and Mark Cuban! What an amazing line you have created and I wish you lots of success!